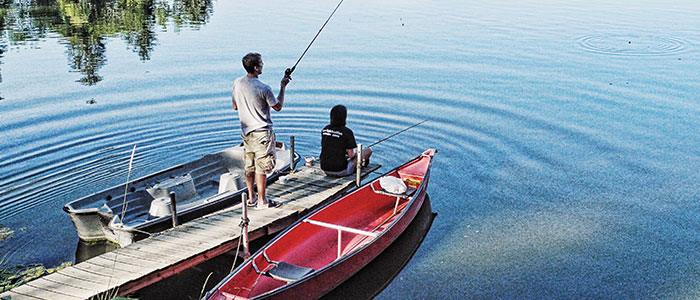 Visit Lenawee
Step into Pure Michigan and find yourself in the heart of small town living in southeast Michigan. Fresh air, friendly locals, and lively downtowns are part of Lenawee County's natural charm. The major regions in Lenawee County include Adrian, Blissfield, Clinton, Hudson, the Irish Hills, Morenci, and Tecumseh.
Michigan Fun for Families
The sweet smell of cotton candy in the air. The happy sounds of children enjoying themselves. Artists displaying their work and musicians sharing their melodies. If you love getting out of the house and making fun family memories, there are plenty of opportunities every year in Lenawee County. Talented musicians take the stage and get audiences on their feet at the Lenawee County Fair, Bluegrass on the River, Rockin' the Hills, Blues & Brews, and more.
Did you know that there are over 52 lakes in Lenawee County? Water skiing, tubing, and knee boarding are the go-to activities throughout the summer months. Boating, a favorite activity in Lenawee, is one of the most common outdoor activities in Michigan.
Arts and Entertainment
Lenawee County has a thriving arts and entertainment scene that easily rivals anything you can find in the region. You can enjoy music, drama, and art performances. Special events are scheduled throughout the seasons.
Exceptional Education System
The Lenawee Intermediate School District provides educational leadership and support services to Lenawee County's 11 public school districts. They offer hands-on educational programs at the LISD TECH Center, a vocational center that offers 28 different career and tech programs to area high school students and adults.
Lenawee County is proud of its strong educational heritage. The colleges and technical schools provide important resources to the community, as well as a steady supply of well-qualified workers.
Lenawee County's Skilled Labor Force
Lenawee County has an agricultural history dating back to 1824. Sweeping fields of corn and soybeans, orchards ripe with apples, and acres of sweet strawberries are just the beginning of the bounty of food produced by Lenawee County farmers.
Manufacturing is also a staple of the community with several notable multi-generational companies continuing to grow and thrive. These same companies are devoted to keeping Lenawee County an ideal location for business and a perfect place to live by investing locally through economic development and charitable organizations.
Lenawee County News
Map of Lenawee County
Lenawee County is two hours west of Cleveland, Ohio and three hours east of Chicago, Illinois. The Michigan cities of Detroit and Ann Arbor are minutes away.